Noise
Saturday, Mar. 24th 2018
Internet is a trash bin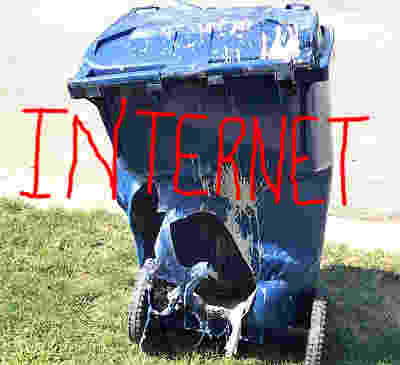 I should have known better...
In 2005 I opened an account there, like I was on for some social interactions with classical guitarists.
A few weeks ago I wanted to share my wonderful second composition with my fellow guitarists. The account was deleted.
My heart suddenly decided to beat faster and harder.
I opened a new account, asked to get the previous one back. Hell man, 2005. Thirteen years. An eternity...
Fuck you loser.
That's what some sons of bitches there replied. With other words. But the meaning was clear. Those people are called "moderators".
I argued a bit. They threatened to kick me. I argued a bit more. They put me in a "we-will-review-all-your-posts-before-they-go-live" group. No warning. No nothing. Just shut the fuck up loser.
My composition was also put to trash, because "it has no title".
Go fuck yourself, gang of nazis.
I got mad, insulted one fatso shit cunt moderator.
Now I'm banned from their shitsite.

All this is ridiculous, right?
Right.
The lesson is the following one. Consider internet as a trash bin. Do not rely on an external entity to protect your interests, your data, whatever. Have local safe copies of everything that matters to you. Use other people's services with the clear idea in your head that those assholes may well decide to kick you out, to close their shit, to change their policy at any time. Be ready to move somewhere else.
This should be obvious to anyone. I forgot it. I suffered. Because it was not a bug. I lost my account because a motherfucker deleted it. Without warning. And then this motherfucker and her gang of motherfuckers laughed at me and treated me like shit when I complained. I opened my heart to those sons of bitches. And they vomited into it. That was brutal. I overreact, yes, but fuck you too actually. It was un-fucking-expected. Why on earth would someone create a service to help people share their passion and treat the participants as shit? My (wrong) hypothesis was that those people are friendly by default and go nuclear if you severely misbehave. I. Was. Wrong.
Here is another lesson I learned. This website is almost unique. It is in a dominant position. So its creators and moderators do whatever they want. Because there is no alternative. That's very dangerous. Create centralized structures and you get nazis in, taking it over. That's mandatory.
The creator of this website spent some hours of his little life (fuck you man by the way) copying some classical guitar music, made some PDF out of it, organized it a bit by difficulty, and put the shit on his site. Then he put some restrictive rules on the files. Like you can download it but to use them as, say, a teacher, you need to be registered on his website and you need to post messages there.
The website has also some shit rules for everyone. You have to connect at least once a year. You have to post one message per month.
In 2005 we didn't have those rules. We had to post 20 messages to download his PDFs but that was it.
It's bad though, don't get me wrong. If you give away some of your time and work, give it fucking straight away. Don't impose anything on the users. Just. Give. The. Shit. Away.
But, you know, dominant position, blabla. He does what he wants.
The funny thing is that his PDFs contain public domain music.
I am glad not to be a neuron lost in the sick brain of this asshole.
If I were not lazy, if I knew the repertoire better, if I was a good guitarist, I would redo his work. But with no such nazi rules. Just. Share.
Actually, there are some websites where you can download a lot of free music for classical guitar. It's just not well organized. Maybe we should do something on wikimedia too. Like a wikibook, or several wikibooks.
I don't know.
I don't really care, actually. This is not my party. I am into computers, not guitars. This is just something I do part-time, I don't have enough knowledge for this.
Anyway, if by any chance some good guitarists out there wants to do such a project, I can help. We have lilypond to write the music. We have the wikipedia and internet archive places to release the shit. It's just a matter of editorial content. The technical part I can do. The musical no.
So be it.
Fuck this website. Next time I'll know better and won't invest emotionally as I did, so if that disappears I won't care much.
Hey free.fr, I love you you know!
---
No comment
---
Contact: sed@free.fr
Created: Sat, 24 Mar 2018 09:55:31 +0100
Last update: Sat, 24 Mar 2018 09:55:31 +0100
Edit