rubix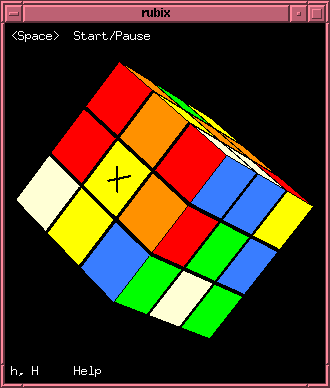 rubix is a Rubik's cube system for the Linux/X11 operating system (it may work with other unices, not tried).
Download
(Wed Nov 19 2008) rubix-1.0.6.tar.bz2 (24567 bytes): fixing GUI bugs (expose events not correctly handled), bugs with random (the cube was not randomized with the 'p' command), bugs in line.c in 24bpp mode (heck, there was dest+=SCREEN_X-1*3 instead of dest+=(SCREEN_X-1)*3; shame on me!) (thanks to SDL/Windows for this one...), various gcc warnings removed.
(Mon Apr 26 2004) rubix-1.0.5.tar.bz2 (24525 bytes): fixing GUI bugs (credits fly to Scott A. Morris).
(Thu Dec 4 2003) rubix-1.0.4.tar.bz2 (24353 bytes): some bugs were fixed, there now is an editor for the faces, various saving formats were added.
(Mon Nov 24 2003) rubix-1.0.3.tar.bz2 (19064 bytes): removing sound, adding resizing (it may fail, resize until the result is ok, this may be fixed one day).
(Thu Dec 9 1999) (removed) rubix-1.0.2-bin-static.tar.gz (368251 bytes): a binary release of the 1.0.2 version (ELF statically linked, should be alright I hope)
(Thu Dec 9 1999) rubix-1.0.2.tar.gz (269800 bytes): some keys added. "rubix -h" to see the difference. Done by Jean-Pierre Demailly.
(Mon Dec 6 1999) rubix-1.0.1.tar.gz (269295 bytes)
(Fri Dec 3 1999) rubix-1.0.0.tar.gz (269264 bytes)
Usage
Read the files included in the distribution.
If you find bugs or have any problem with this program, contact me.
To do
Add a solver.
Use gtk instead of this big hack.
Links
krubik
Another Rubik's cube system, needs Qt/Kde.
Solving Rubik's cube for speed
It says what it says...
speecubing.com
A very good website about speedcubing.
Windows
rubix-win-setup-2.exe (2008-11-21)
rubix-win.tar.gz
It may fail to work, it's just a hack. A lot is missing but you can play the cube. A guy from Ecuador requested a Windows version, there it is...
---
Contact: sed@free.fr
Last update: Fri, 21 Nov 2008 08:35:50 +0100
Powered by a human brain, best viewed with your eyes (or your fingers if you are blind).